Polkowice commune – to become independent of copper, live prosperously and continue to develop(This page is being Translated. I am sorry that this page is not available in English yet. I am are working on the translation. Try to use automatic translation with your browser. Thank you.)
Pracując dla samorządowego lidera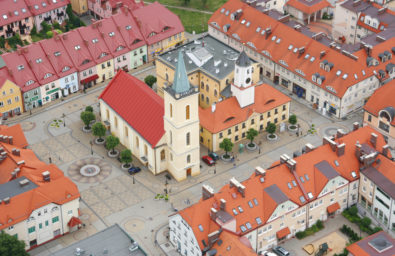 Pełne i trwałe uzależnienie gminy od górnictwa, nawet jeśli przez jakiś czas zapewnia bogactwo, zawsze kończy się kryzysem. Wszystkie złoża kiedyś się kończą lub ich wydobycie przestaje być opłacalne. Strategia Polkowic chroni je przed tym scenariuszem.
Władze Polkowic uświadomiły to sobie już w latach 90′. Dlatego jako pierwsze w Polsce postanowiły przyjąć odpowiednią strategię rozwoju, powierzając mi kierowanie pracami nad nią i opracowanie jej tekstu. Udało się w pełni, a wszystkie 4 kolejne strategie Polkowic, włącznie z obecną, są też mego autorstwa.
Na początku lat 90′ Polkowice wcale nie były gminą zamożną. Szybko jednak zaczęły się bogacić dzięki rudzie miedzi i podatkom płaconym do budżetu gminy przez duże, eksploatujące ją przedsiębiorstwo KGHM "Polska Miedź" S.A. Wysokie dochody zaczęto przeznaczać na drogi, komunalne mieszkania, obiekty sportowe, kulturalne, na rekreację, bezpieczeństwo, pomoc społeczną itp. Mieszkańcy oczywiście z radością przyjęli nagłą, dużą poprawę usług publicznych i ogólnych warunków życia. Wkrótce jednak władze zdały sobie sprawę, że gmina wprawdzie dynamicznie się rozwija, ale rozwój ten jest uzależniony nie tylko od jednej branży (górnictwa), ale i od jednej firmy (KGHM PM S.A.), a jej ewentualny kryzys rozwój ten zatrzyma, a nawet cofnie, powodując ogromne rozczarowanie społeczne. Zdano sobie również sprawę, iż wcześniej czy później stanie się to i bez kryzysu, gdy ruda miedzi po prostu się skończy.
Wyzwanie polegało zatem na tym by zbudować i wdrożyć taką strategię rozwoju gminy, w której dzisiejsze, ponadprzeciętne dochody wykorzystane zostaną na zapewnienie trwałości tego rozwoju, ale przy jednoczesnym zapewnieniu bardzo dobrych usług publicznych, do których społeczność zdążyła się już przyzwyczaić. Co więcej, wszystko to w sytuacji gdy samorządowe planowanie strategiczne dopiero w Polsce raczkowało…
W pracach nad strategią postanowiono wykorzystać metodę planowania partycypacyjnego. Powołano zatem duży zespół lokalnych liderów, reprezentujących biznes, różne organizacje, instytucje i miejscowości gminy oraz grupy społeczne i zawodowe. Powołano także zespół najlepszych ekspertów samorządowych, profesorów i branżowych specjalistów. Mnie powierzono koordynowanie ich prac, moderowanie spotkań warsztatowych i przygotowanie tekstu strategii.
Opracowana strategia zakładała wieloletnią koncentrację samorządu na przełamaniu pełnej dominacji przemysłu miedziowego w gospodarce gminy poprzez stymulowanie rozwoju innych, alternatywnych, ale również przemysłowych branż, które miały przejąć na siebie rolę motorów rozwoju gdy górnictwo przygaśnie. Cel ten zaplanowano osiągnąć dzięki inwestorom zewnętrznym, zwłaszcza zagranicznym. W strategii znalazło się zatem wiele realizujących ten cel, ambitnych zadań, np.:
infrastrukturalne i prawne przygotowanie rozległych terenów inwestycyjnych,
ich międzynarodowa promocja,
pozyskanie dla części tych terenów podstrefy specjalnej strefy ekonomicznej,
przygotowanie procedur i urzędników do obsługi zagranicznych inwestorów,
rozwój innych niż "miedziowe" kwalifikacji zawodowych mieszkańców,
rozwój usług publicznych ważnych z punktu widzenia inwestorów zagranicznych.
Równie ważny był społeczny konsensus zbudowany wokół strategii. Swoisty wielostronny pakt dla gminy Polkowice, w którym wszyscy zaproszeni do prac nad nią zgodzili się, że teraz niezbędna jest zmiana struktury wydatków gminy poprzez wzrost udziału wydatków progospodarczych, by w przyszłości mieć przemysły alternatywne do miedziowego. Zaakceptowano bowiem ideę, że ten dzisiejszy progospodarczy wysiłek i związane z nim ograniczenia w bieżącej konsumpcji, zaprocentują w przyszłości trwałym rozwojem społeczno-gospodarczym i wysoką jakością życia mieszkańców.
Budowanie nowych gałęzi gospodarki to zadanie na wiele lat. Niemniej, już w pierwszych latach wdrażania strategii osiągnięto wiele sukcesów, w tym najważniejszy – zaczęli napływać inwestorzy zagraniczni. Dlatego kolejne, zaktualizowane strategie, uchwalane przez Radę Miejską co kilka lat zachowały ten cel strategiczny. Dziś gmina Polkowice posiada już wiele zakładów przemysłowych z branż innych niż "miedziowa". Zainwestowały tu amerykańsko-kanadyjski Royal Europa, niemieckie Volkswagen i Sitech, austriacki TCM, japoński Sanden, szwajcarski Oerlikon, ale także polskie CCC i wiele innych. Co więcej są to w zdecydowanej większości przedsiębiorstwa nowoczesne, innowacyjne, globalne i dynamicznie rozwijające się. Udział osób w nich zatrudnionych zbliża się do 40% co świadczy o prawidłowym rozwoju "pozamiedziowych" filarów gospodarki.
Co więcej gmina osiąga spektakularne wyniki rozwojowe również na innych polach. Jest oceniana nie tylko jako wciąż jedna z najbogatszych, ale i najlepiej zarządzanych oraz rozwijających się we w pełni zrównoważony sposób. Jako przykład takich ocen można wskazać Ranking Politechniki Warszawskiej Jednostek Samorządu Terytorialnego Zrównoważonego Rozwoju. Wśród wielu publikacji opisujących strategie gminy Polkowice, jej realizację i osiągnięte efekty warto polecić serię 9 książek stanowiących wynik projektu naukowo-badawczego pt. "Rozwój społeczno-gospodarczy Polkowic w latach 1990-2010" przeprowadzonego przez Dolnośląską Wyższą Szkołę Przedsiębiorczości i Techniki. Polecam także moje publikacje opisujące ten wzorcowy, strategiczny sukces samorządowy.
Zobacz moje referencje za realizację tego projektu konsultingowego.