Jelenia Góra City – how to resist marginalization thanks to heritage and external factors
(This page is being Translated. I am sorry that this page is not available in English yet. I am are working on the translation. Try to use automatic translation with your browser. Thank you.) Gdy problemy przychodzą z zewnątrz, szukaj na zewnątrz pomocy, wykorzystując to co masz najlepszego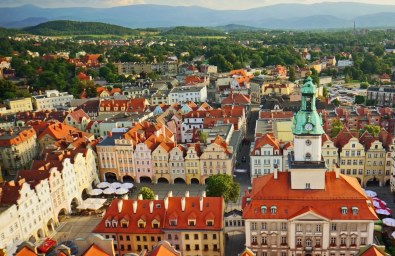 Ostatnie 3 dekady były trudne dla polskich miast średnich. Wiele z nich uległo społeczno-gospodarczej recesji, wołanej przez czynniki zewnętrzne, zwłaszcza gdy leżały daleko od miast dużych. By się obronić i rozwijać, musiały mieć dobre strategie rozwoju.
Sytuacja ta dotyczyła też Jeleniej Góry, która choć położona w malowniczej kotlinie i dysponująca m. in. zróżnicowanym przemysłem i szkolnictwem wyższym, traciła mieszkańców, przedsiębiorstwa, połączenia i status wojewódzki. Swą strategię oparła na swych unikalnych atutach i ponadlokalnych szansach.
Jelenia Góra należy do miast, które choć pośrednio to jednak silnie odczuły transformację systemową oraz reformę terytorialną i inne reformy lat 90′. Do największych jej strat zaliczyć można likwidację dużych zakładów chemicznych (choć było to bardzo korzystne dla środowiska) oraz dużej jednostki wojskowej, upadłości kilkudziesięciu firm państwowych, a także utratę statusu miasta wojewódzkiego, licznych instytucji publicznych oraz wielu połączeń kolejowych. Niezwykle niekorzystny był także duży spadek ludności wywołany migracją. Na miasto negatywny wpływ miała również w większości zła sytuacja społeczno-gospodarcza otaczających go gmin. Niebagatelne znaczenie miała także niekorzystna struktura przestrzenna miasta. W wyniku przyłączenia w latach 70′ do miasta okolicznych miejscowości bardzo wzrosła jego powierzchnia, spadła gęstość zaludnienia oraz wzrosła nieregularność kształtu. Znacząco podniosło to koszty infrastrukturalnej i komunikacyjnej obsługi mieszkańców. W łącznym efekcie w obliczu wielu problemów społecznych, infrastrukturalnych, mieszkaniowych, logistycznych, gospodarczych, oświatowych i innych miasto to dysponowało budżetem, który nie pozwalał ich rozwiązać w zadowalającym stopniu.
W obliczu tych zagrożeń władze miejskie już w 1998 r. uchwaliły pierwszą strategię rozwoju, ale reforma samorządowa, która nastąpiła rok później i inne nieprzewidywalne czynniki zewnętrzne spowodowały, że szybko uległa ona dezaktualizacji. Dlatego w roku 2003 r. władze podjęły decyzję o opracowaniu kolejnej strategii, powierzając to zadanie Karkonoskiej Agencji Rozwoju Regionalnego S.A. Agencja z kolei zwróciła się do mnie o objęcie funkcji koordynatora prac nad strategią, moderatora spotkań konsultacyjnych i warsztatowych, a także głównego autora tekstu nowej strategii. Funkcję tę przyjąłem i pełniłem przez cały, roczny okres prac nad nią.
Mająca sprostać tym wyzwaniom, Strategia Rozwoju Jeleniej Góry na lata 2004-2015, opierała się na idei prorozwojowej aktywizacji unikalnych, cennych bogactw tego miasta przy wykorzystaniu czynników rozwoju z dalekiego otoczenia. Za bogactwa strategiczne zostały tu uznane m. in.: rozległe tereny inwestycyjne, walory uzdrowiskowe, wody geotermalne, materialne i niematerialne dziedzictwo kulturowe, sąsiedztwo gór i atrakcyjnych ekosystemów, "przemysłowe" kwalifikacje ludności oraz jeleniogórskie uczelnie wyższe. Wśród ponadlokalnych czynników wymieniano przede wszystkim środki z funduszy europejskich; kapitał i wiedzę inwestorów zewnętrznych; środki pieniężne turystów i kuracjuszy; krajowe środki publiczne na świadczenie usług medycznych i edukacyjnych; innowacje techniczne, technologiczne i organizacyjne. Wśród zadań strategicznych znalazło się zatem wiele takich, które zmierzały do połączenia lokalnych bogactw z ponadlokalnymi czynnikami rozwoju. Przykładowo, były to: pozyskanie inwestorów zewnętrznych, pozyskanie środków unijnych na inwestycje w infrastrukturę techniczną i społeczną, pozyskanie specjalnej strefy ekonomicznej, przebudowa i rewitalizacja części uzdrowiskowej miasta, budowa aquaparku wykorzystującego wody geotermalne, rozbudowa bazy materialnej uczelni wyższych.
Dzięki realizacji zaprezentowanej strategii udało się powstrzymać znaczną część negatywnych procesów społeczno-gospodarczych, a inne ograniczyć. Jednocześnie wydało się wzbudzić równoległe procesy rozwojowe, które równoważą to co niekorzystne i odtwarzają utracone wcześniej walory miasta. Udało się pozyskać specjalną strefę inwestycyjną oraz dużych inwestorów z branż motoryzacyjnej i lekkiej (np. DWS Draexlmaier Sp. z o.o., Jelenia Plast Sp. z o.o.). Pozyskane środki unijne pozwoliły na kompleksową modernizację infrastruktury wodociągowo-kanalizacyjnej i drogowej. Dokonano także kompleksowej rewitalizacji uzdrowiskowej części miasta, wraz z towarzyszącymi jej parkami. Wybudowano aquapark, obwodnice miasta i wiele elementów infrastruktury turystyczno-rekreacyjnej. Udało się odzyskać część połączeń kolejowych i utrzymać, a nawet rozwinąć szkolnictwo wyższe. Pojawiły się też duże inwestycje w wielkopowierzchniowe obiekty handlowe.
W ostatnim 2014 roku realizacji strategii, tygodnik "Polityka" opublikował "Ranking jakości miejskiego życia". Porównywano w nim polskie miasta o statusie powiatu oceniając m.in. warunki mieszkaniowe, dochody, pracę, edukację, środowisko, zdrowie, zadowolenie z życia, bezpieczeństwo i jakość samorządu. Na 66 takich miejscowości Jelenia Góra znalazła się na ogólnie na 22 miejscu, a w kategorii "zadowolenie z życia" na trzecim (po Ostrołęce i Lesznie, a przed Warszawą, Gdańskiem, czy Wrocławiem). Opracowana w tym roku kolejna strategia, tym razem na lata 2014-2025 kontynuuje przyjętą wcześniej linię strategiczną pozyskiwania czynników zewnętrznych dla prorozwojowej aktywizacji wewnętrznych atutów.
Zobacz moje referencje za realizację tego projektu konsultingowego.